A Dyson sphere! OMG you guys they have a Dyson sphere!!
(Well, a partial [and apparently very small] Dyson sphere. It looks like the hexagonal modules are assembled elsewhere and are still in the process of being bolted together around a tiny [artificial?] star. I'm guessing that, when the sphere is complete and airtight, the pressure domes will be dismantled and the settlements will gradually expand to cover the interlocks.)
Valvrave is produced by Sunrise, creators not only of my beloved Gundams, but of
Code Geass
as well. They are generally considered the masters of mecha anime, and Valvrave is intended to be a deconstruction of this --much like
Madoka Magica
was for Magical Girls.
This one's going to be a weird one; there's a massive plot twist at the end of the first episode, so I'm putting the episode summary in a spoiler box:
Okay, leaving aside the plot (which starts as a
deliberate
deconstruction of Gundam tropes, so I can't call it a rip-off), this. . . wasn't what I expected.
Sunrise is famous for its traditionally-drawn mecha --while they certainly use computers and CGI for effects and colouring, most Gundams are still hand-drawn (giving them a range of movement that CG models can't easily match). Valvrave tries to blend hand-drawn and newer/more-popular CGI techniques, and it doesn't always work.
Don't get me wrong; the CG isn't as bad as
Muv-Luv: Total Eclipse
or (god forbid)
Transformers Energon
, but it definitely has the usual drawbacks.
Like most CG-animated mecha, Valvrave is heavily over-designed; in motion, it's a jumble of panel-lines and protuberances and bulked-up armour that belies Valvrave's agility. Also like most TV-budget CG, Valvrave loses the detailed fluidity and sense of
weight
of a hand-animated mecha (since modelling and rendering all the moving parts would cost far more than simply drawing them flexing and shifting as the machine moves).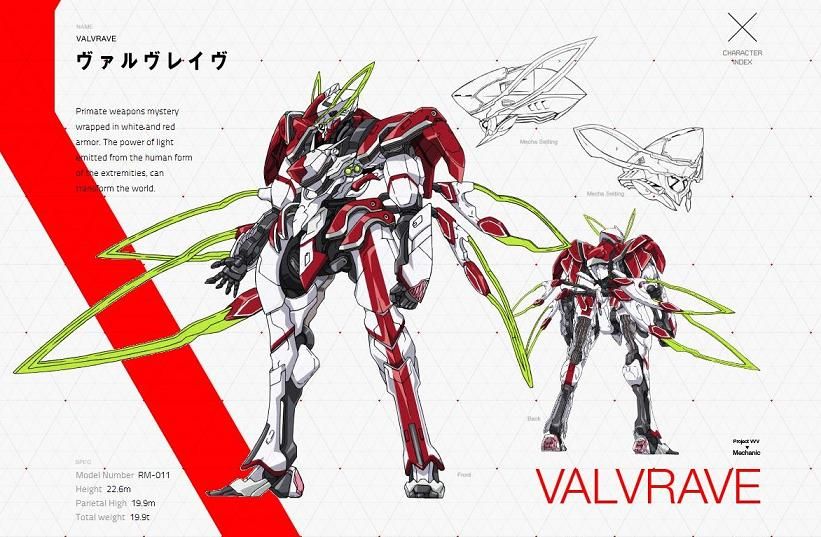 OTOH, The mecha design itself is kinda cool (the big wing-like swoops look like something the Systems Commonwealth would design --paint it silver and this thing would look right at home on
Andromeda
's flight deck), and I definitely like the new look at mega-engineering (now that Sunrise has more than proven their expertise at handling space habitats and orbital mechanics).
There's also a surprising amount of humour amidst the bloodshed. I'm especially amused that the Valvrave's designers apparently included an
OS-Tan
on its bootup screen.
One trend I've noticed in both this and the second episode of
Majestic Prince
is that we're seeing a much more social media-savvy future; in both shows the lead characters become online celebrities (the Fail Five are trotted out at a press conference [complete with suitably inane/smartass Niconico-style user commentary], and Haruto's rampage is video-streamed online as-it-happens [complete with his face and online history/school records becoming public knowledge with memetic speed]). This makes them, in effect, the stars of their own shows in-universe as well as out.
While this feels refreshingly modern (compared to, say, Star Trek's now-glaring lack of social media), I can't help but wonder what this says about modern storytelling --it's almost as if the shows are trying to write their own transmedia projects without actually
doing
anything interactive (thereby missing the entire point of transmedia).
Edited by Cybersnark, 21 April 2013 - 06:37 PM.