I saved this one for last because I knew it would be the best; it's from Production I.G., who previously brought us
Ghost in the Shell: Stand-Alone Complex
and
Moribito: Guardian of the Sacred Spirit
--two of the greatest anime masterpieces of all time.
Like all I.G. shows, this is very densely and intricately written, so I'm sure I missed details (I counted multiple subtitled conversations going on simultaneosly, and even I don't read that fast).
We open with a narrated tour through an
extremely
advanced space-based civilization, and we're told that the Age of Wandering has come to an end. The centrepiece is Avalon, a massive space habitat built around an artificial wormhole (which can be redirected as needed, providing interstellar transport). The narration spares no expense to tell us how Wonderful the Galactic Alliance of Humankind is, how
monstrous
the Hideauze are, and is generally the kind of self-congratulatory xenophobic propaganda I'd expect from fascist bastards.
The narration (which openly identifies itself as hypnotic conditioning) ends, and our lead character regains consciousness --Lieutenant Ledo (Leto?) is a pilot aboard an AI-powered Machine Caliber (his AI/copilot is named Chamber, and kinda reminds me of a cross between KITT and Data). Chamber helpfully reminds Ledo of his long military service, and notes that after this mission, he will be granted (limited) Citizenship and allowed to enter Avalon for four weeks, where he can eat, drink, sleep, and reproduce freely. Ledo is unenthusiastic about this; he isn't really interested in anything Avalon has to offer. Chamber tries to encourage him (he has proven superior, and worthy of reproduction, and should celebrate), and Ledo asks if Chamber is happy (he dodges the question, falling back on his programmed directives).
The (seemingly unprovoked) attack on the alien nest (itself a huge space habitat) goes pear-shaped (though it gives Chamber a chance to show off his nearly-apocalyptic level of weaponry --and he's just one of
thousands
of Machine Calibers), and the Alliance forces withdraw through their wormhole.
Ledo breaks ranks to cover the withdrawal (and his CO breaks ranks to come back for him, noting that Ledo, being younger, is more valuable than he is), which makes Ledo the last pilot to return. He
nearly
makes it into his mothership, but gets grabbed by one of the Nautilus-like Hideauze fighters, which slows him down enough that he doesn't "land" so much as grab onto a stanchion with one hand. As the ship enters the wormhole, the turbulence strikes him, and he gets ripped away. . .
Aboard a ramshackle construct, a girl in stylish homespun clothes (and her pet
vermin
flying squirrel) races through rust-stained metal gangways and down stairs. She eventually arrives in a cargo bay, where a group of mechanics are poring over. . . Chamber. The girl (Amy) hands her delivery to the woman in charge (they're renting this workspace, and there's paperwork to sign), and checks out the "salvage" --the mechanics have never seen anything like it. They've been trying to break it open, but nothing they have can make a scratch, and they can't recognize the writing on the hull (if it even is writing).
Inside, Ledo again wakes up; Chamber has been keeping him in stasis for six months, but now Chamber needs orders. Neither of them recognize the people scrabbling over the (still inert) hull, nor their language. Chamber confirms that none of the tools he's seen can harm him (and neither of them appear concerned with fuel or food, so no hurry). Ledo guesses they're a primitive throwback colony that hasn't joined the Alliance. Chamber has no idea where they are (navigationally speaking), and explains that they could've been popped out of the wormhole anywhere.
Chamber notes that the walls of this room are flimsy enough that Chamber could smash his way out, but Ledo vetoes that; there could be vacuum on the other side, and no one here is wearing a space suit.
As the day winds on, the mechanics gradually drift away. After the last one leaves, Ledo pops the hatch and takes a look around. He detaches Chamber's comm unit and clips it to his suit as he goes. Gravity is exactly 1G, and atmosphere is perfectly breathable (though it reeks of something Ledo can't identify). He's examining the primitive tools when he hears the door open.
The lead mechanic (Bellows) and Amy (and her varmint) return; she wanted to take one more look at the machine. Bellows notices the wet footprints (Ledo stepped into a puddle), and Ledo suddenly darts from hiding and takes Amy hostage at gunpoint. Neither she nor the mechanic seem to recognize the weapon --the girl struggles violently and the mechanic charges. Ledo fires a laser into the floor around Bellows' feet (demonstrating both excellent hand-eye coordination and impressive restraint), then tosses the still-yelling girl over his shoulder and runs.
Bellows sounds an alarm (which brings people out of their bunks), and Ledo races through the maze-like structure. Chamber is automapping (using the commlink Ledo carries), and trying to develop a translation matrix. It's only at 40%, and he suggests Ledo keep the hostage talking.
Quote
"Those were statements regarding reproduction with one's mother, as well as sanctified excrement."
As the chase continues, Chamber points out that he hasn't found any sign of pressure bulkheads or life-support systems. There is only one type of structure in his databanks that this resembles.
Ledo bashes through a doorway and skids to a stunned halt; before him is blue sky, blue water, and a blinding glare.
As he squints, the flying rat lands on his face, and he drops Amy. After the squirrel returns to its master, Ledo finds himself cornered by a hedgerow of rifles and angry locals.
Ledo calls for help, and Chamber smashes his way free and swoops around to hover behind his pilot.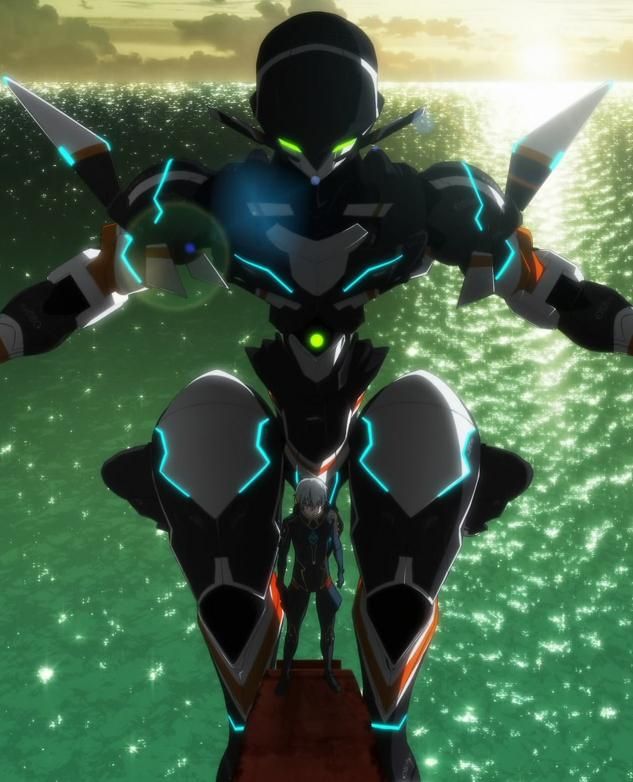 Ledo doesn't understand where they are, but Chamber explains that there are records of a planet capable of supporting surface life. Only one, and Chamber's navigational sensors can now confirm it: Earth, the birthworld of the human race, long thought lost.
#
Production I.G.'s reputation is well-earned, and their usual brilliance is on display here; the character designs are beautiful and detailed (Ledo is jarringly pale next to the tanned Earthlings, which makes sense given that he's apparently spent his whole life in controlled environments). The plotting is a little by-the-numbers to set things up, but I like the subtle touches of the wildly different technology, and the (hopefully) ongoing language barrier (though it can get a bit confusing as the show flips between different POVs --Babylon 5 did much the same thing, and it annoyed me then too).
The CGI seems to work so far, though most of what we've seen of Chamber is in space or hovering, so I can't judge how effective he'll be when physically interacting with the world.
Intelligent robots are surprisingly rare in anime (like aliens, they tend to default to human forms, or are so alien that they don't count as "characters" [or are just "mons" in kid-targeted shows]); the main examples are the Tachikomas from GitS, and it's clear that Chamber does not resemble those particular ancestors --he's much more subdued and bloodthirsty. Which, again, makes perfect sense for a military AI. He and Rommie would no doubt find much common ground. Also unlike the Tachikomas, Chamber isn't really self-guided; while he can clearly move (and possibly fight) without his pilot aboard, his main function is to support Ledo --to "ensure that he reaches his full potential" (which is why he was so proud that Ledo had won passage into Avalon).
Hopefully the GAoH and Hideauze will continue to figure in, but based on advance reports, it looks like the bulk of the series will focus on Ledo and Chamber as fish-out-of-water on Earth (with Ledo no-doubt discovering the things that he dismissed as "beyond him" on Avalon).
Despite his fascist roots, I
like
Ledo; His early conversation with Chamber shows that he's smart enough to question the world he lived in, and he shows impressive consideration --despite being a soldier in wartime, he does
not
identify the strangers around him as potential enemies, and goes to great lengths to not harm anyone (even when he takes Amy hostage, he doesn't retaliate when she starts punching/kicking him).
Amy seems like the stereotypical genki-girl eventual love-interest, though I'm interested to see the other cast of characters aboard the city/ship, and I trust I.G. to do something interesting with her.