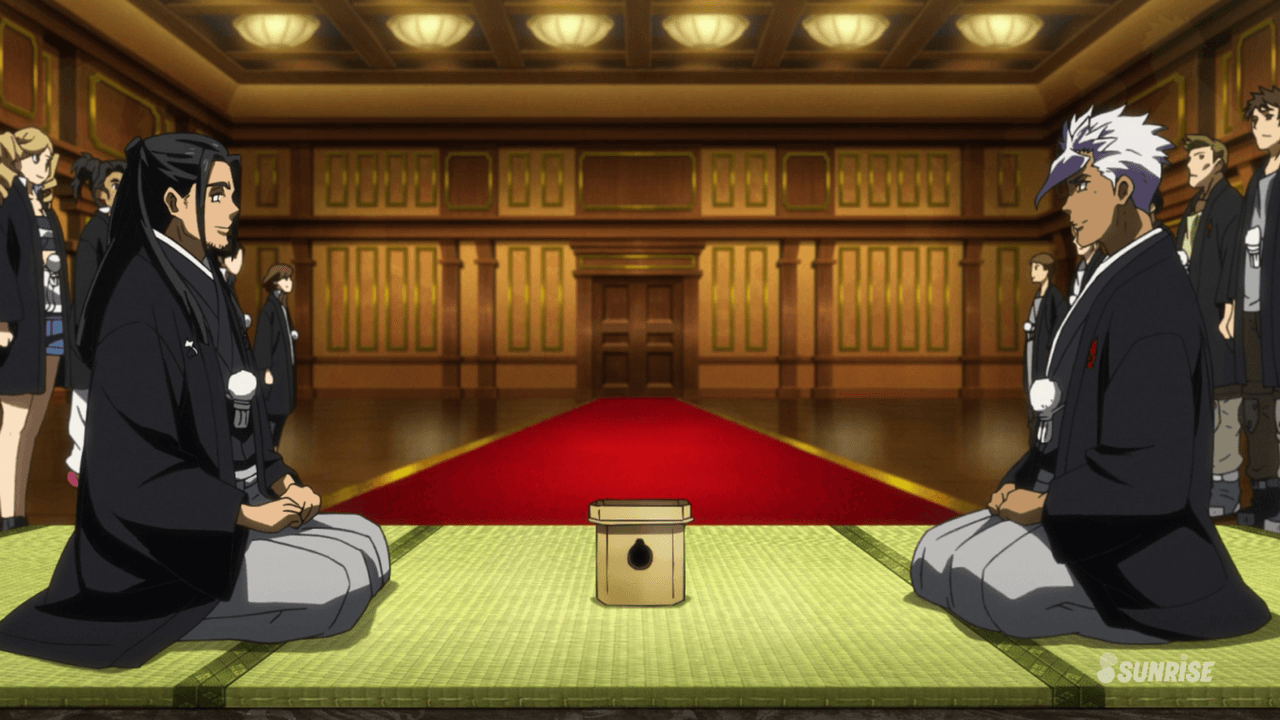 Episode 9: Sakazuki
No real action this week, but some beautiful character moments, and Orga gets to have some fun (and it's terrible).
It's kinda weird to hear Kudelia calling Orga "Boss." Weird but cool; she's a part of the family as much as any of the guys. I especially love how she invoked Tekkadan's blood without knowing about the analogy Orga drew last episode, about the shed blood that unites them.
I
really
hope some of that cash made its way back to Mars
before
Orga gave everyone leave. Like
the song
says, a true
queen
leader knows hir people fed before s/he sits to feast. I trust Biscuit to be on top of things, with or without Orga's explicit say-so; that's part of being a good XO.
It occurs to me that, if they can find a way to take down Gjallarhorn suits without destroying them, Tekkadan could probably finance itself entirely by selling Gjallarhorn's restricted tech on the black market.
*takes notes*
I'm quickly growing to dislike Amida. I don't want her to die, certainly (she hasn't reached Yzak Joule levels of karma), but I
really
want her philosophy to be proven wrong; she seems to be the voice of internalized sexism that considers being a Wife (of a Successful Man) to be the apex of a woman's ambitions.
She goes great with Naze's particular brand of toxic masculinity, and I hope Orga and his family are smart enough to
not
learn too much from them (though I have to applaud Naze's complexity --despite his more repulsive aspects, he clearly has just as many positive traits, which are what lead to him and Orga bonding in the first place).
Also, Fumitan is totally going to betray them. The only question is if she's working for Nobliss, Kudelia's father, or McGillis.