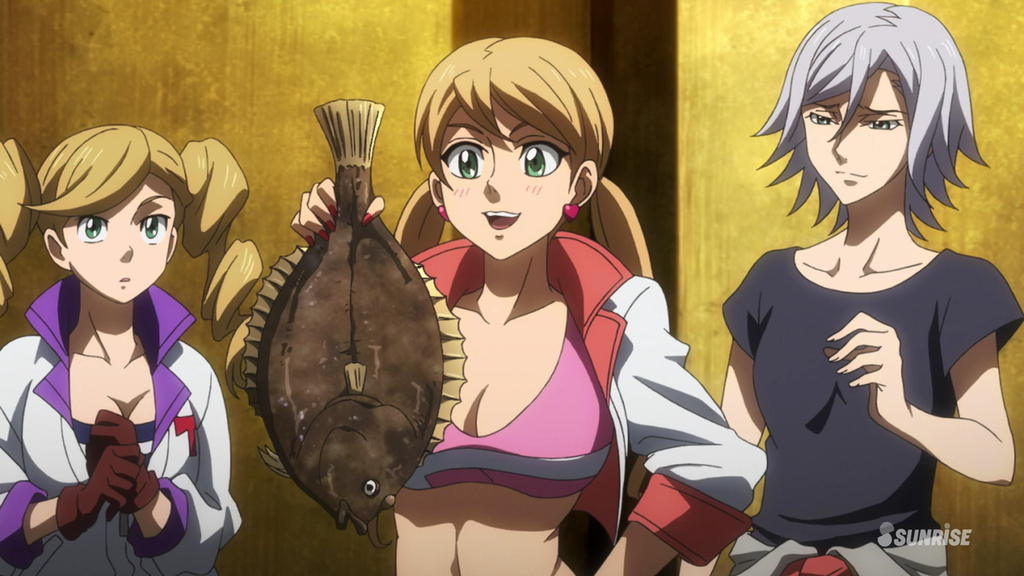 Episode 20: Brother
With their official mission (bringing Kudelia to Earth) fulfilled, Tekkadan now has to re-evaluate exactly where they stand, and what they're willing to risk.
I've been worried for a while about a falling-out between Biscuit and Orga; of all of them, Biscuit has the most connections outside the Tekkadan "family," so its natural that his priorities would be different. Thankfully, it looks like it'll be resolved quickly thanks to the revolutionary idea of people actually
talking
to each other (unlike in every American TV series EVER).
It looks like that long-awaited betrayal between Tekkadan and Teiwaz is coming sooner rather than later, and I honestly don't know which way Turbines will fall. Naze's reassurances and questions to Orga could be a test of Orga's loyalty --or a harbinger of Naze throwing his full support behind his "brother." Naze's loyalties pull in three directions (Barriston, Orga, and his own family), and with three of his wives in the line of fire, there's no telling if he'll support Orga's dangerous plan.
It was interesting to see Tekkadan's reactions to Earth, and how much more "worldly" the Turbines crew are, whether simply due to age or by virtue of Naze's "upper crust" lifestyle. Probably the latter, since fish are obviously being eaten on Mars by the likes of Kudelia's father (either imported from Earth or farmed in specialized facilities).
And the moon does indeed look very different; it doesn't seem to be a smooth sphere anymore. Most of the surface was probably blasted away during the Calamity War.
Also interesting to get more details on Gjallarhorn's stance toward human augmentation; it makes sense that Gjallarhorn would consider "purity" to be so important, given their narrative of Earth's racial superiority. We've already seen Ein's reaction to being called "inhuman," and it seems like this is the first time that Gaelio has really considered the issue.
I hadn't even realized that Nadi was a cyborg --even beyond the Alaya-Vijnana system, such things are obviously normalized in the Outer Spheres. This is the second time he's referred to the Calamity War as if it has direct bearing on him; just how old
is
he?