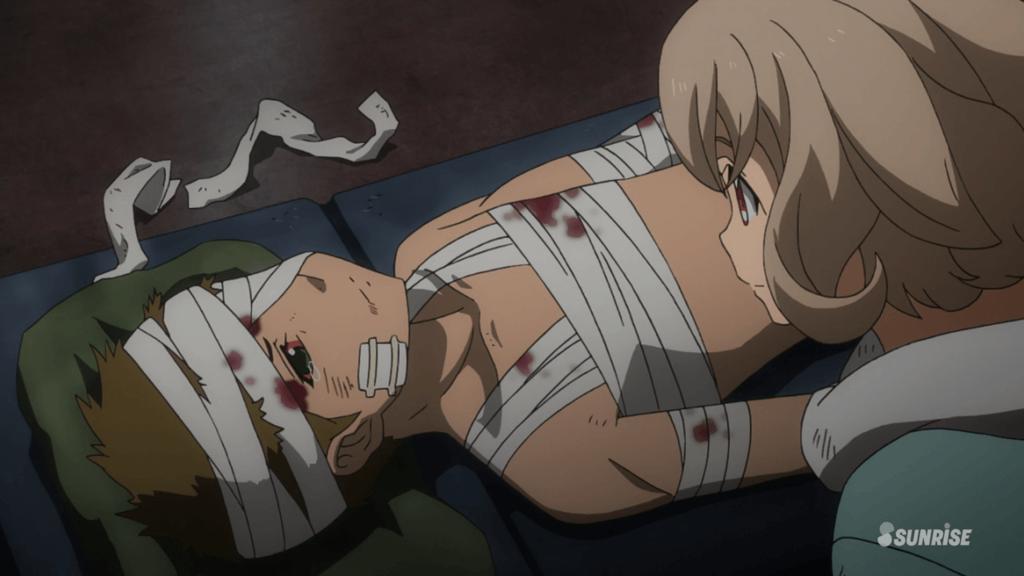 Episode 24: A Future Reward
The end of a Gundam season/series is usually marked by a bloodbath. This one is particularly gut-wrenching; I
like
these characters.
With only two episodes left until the season finale (still no official word on season 2, though rumours have been swirling for months), things are starting to seem rushed. This mini-timeskip does manage to increase the impact by dropping us right into the midst of tragedy, but it almost would have been more effective to show things spiralling out of control here (and to give us more time with the non-core Tekkadan characters, most of whom are just generics at this point).
Part of it is because this suicidal plan doesn't seem like what I've come to expect from Orga; he's been rudderless since losing Biscuit, and the people who
could've
slapped some sense into him are all conspicuously silent (Naze is out of contact, Nadi is deliberately keeping out of it, and Kudelia is too busy dealing with that Horrible Old Man).
Orga's talk of this being their "last operation" hasn't reassured me about any suicidal tendencies either.
I have to admit I'm a bit disappointed in Merribit. After Atra and Kudelia, I wasn't expecting her to crumble like this under pressure. We still know very little about her background; she's well-educated, from a fairly wealthy colony (which still has the luxury of holding funerals). I would've hoped that her time on
Isaribi
would've demonstrated to her that these
aren't
children; they've all been emotionally stunted by their upbringing, and they can't simply drop the cult-like devotion to Orga.
She's correct that this whole situation is wrong, but it's not the fault of Tekkadan, or Orga, or anyone she's directly interacted with. They're just victims caught up in the meatgrinder, and she can't save them. The whole Gjallarhorn-backed
system
is what's wrong, turning the Outer Spheres into impoverished hellholes where child-slavery and harems are considered acceptable evils.
I'm pleased that Scar and the Brewers' survivors weren't completely forgotten, though I have to wonder how Eugene and the others got down to Earth (and where they got their mobile workers from). Surely Gjallarhorn would have increased security after Carta's initial defeat.
I have to assume that Ein's headstrong charge is what McGillis has been planning; Ein's actions here could be played two ways. If Ein is publically linked to Gjallarhorn, it would trigger a massive outcry against them (and possibly in favour of Tekkadan, if they manage to stop him quickly), giving McGillis the ammunition he needs to start making sweeping reforms. All the better if Iznario's alliance with Fleur (and their conspiracy against Makanai) comes to light. If McGillis' spin-doctors manage to blame the destruction on Tekkadan, it will play into the terroristic narrative that despots and megalomaniacs so love --Gjallarhorn will need to increase its control to prevent such tragedies in the future.