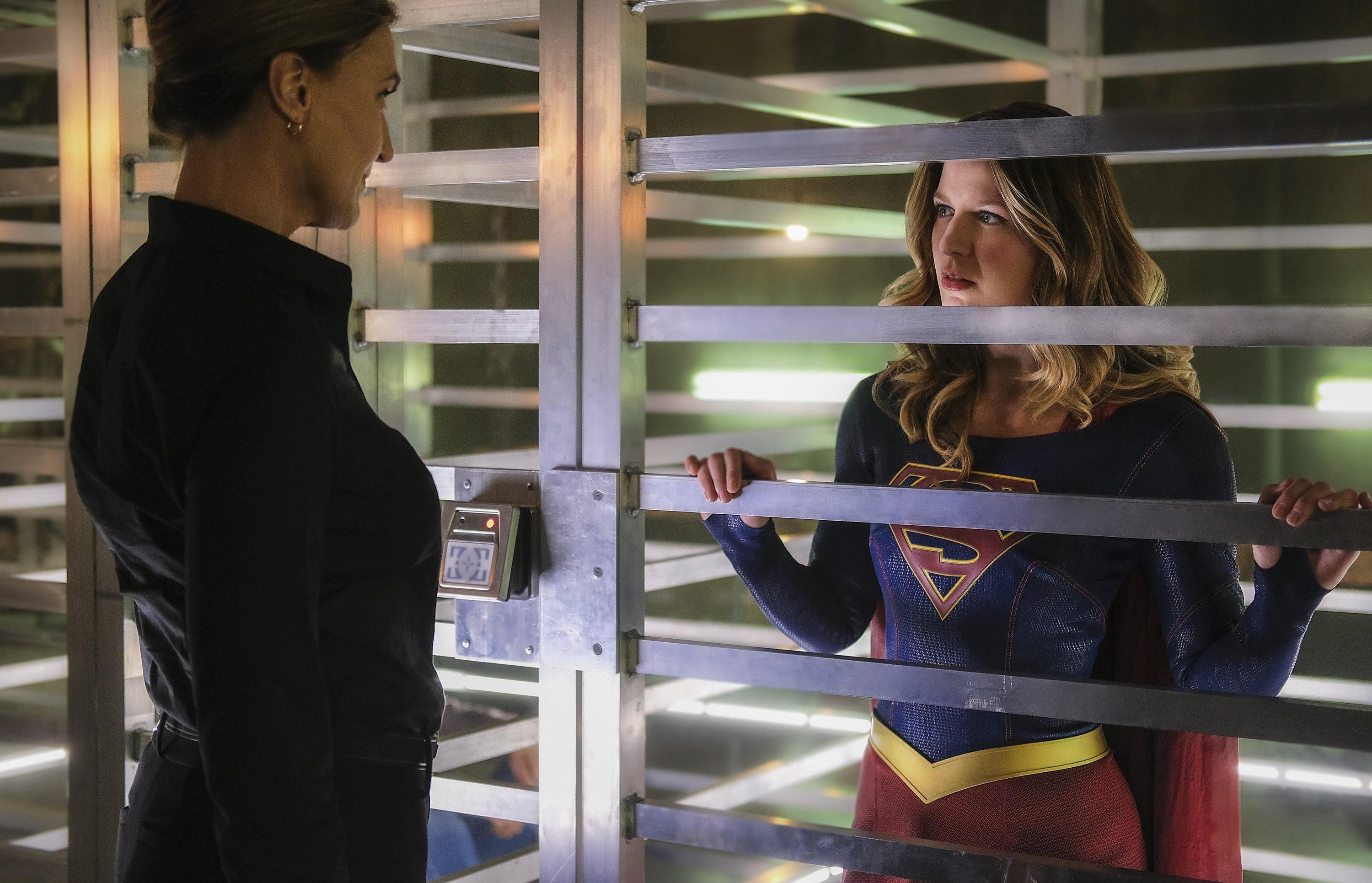 This was certainly a jam packed episode. A lot of simmering plot lines came to a boil here.
I am loving the Guardian stuff. When I first heard they were going to make James a hero I groaned. It seemed like a last ditch effort to save the character. Boy was I wrong. James becoming the Guardian and Winn being his sidekick/tech support has helped both characters tremendously. James is kicking butt as the Guardian. His B-plot this episode was just as engaging as the A-plot. The vigilante serial killer was a good foe for him, and had a sympathetic reason for killing bad guys.
Nice Batman reference without actually saying the name Batman. There was also a nice nod to Thanagar.
Mon-El is falling for Kara hard. Not a surprise at all but I think they'll be a better couple than Kara and James. I do like that he's still getting adjusted to Earth customs. I laughed when he told the guard that he was ugly and so only a dog would marry him. It was a smart way to get him angry and allow Mon-El to escape.
The head of Cadmus is Lex's biological mother, Lillian. Her logic makes a crazy kind of sense. She believes Superman turned the world against her son and betrayed him and now wants to punish all aliens. A mother's love can be a terrifying thing.
J'onn found out Megan was a white Martian and he was not happy. The battle the two had was really well done. I understand J'onn's point of view. To him, all white Martians are completely evil and want to exterminate every last green Martian. Even if Megan did try to save some green Martians, she is still culpable in his eyes.
I like that this season is tackling hard issues like racism, with Kara and Mon-El and now J'onn and Megan. I don't know if J'onn really has the authority to lock Megan up. As far as I'm aware, she hasn't done anything wrong on Earth and he has no proof she did anything wrong on Mars either. This is his ugly racism, no matter how well deserved, rearing its head.
Wow. J'onn is turning into a white Martian and according to Megan there is no way to stop it. That's going to cause a ton of problems. J'onn is literally about to become the thing he hates and fears the most.
Jeremiah makes a return appearance. He has to be working with Cadmus in some capacity to have a key card and be able to move about freely in what is obviously a temporary set-up. I am glad that he showed up. I was wondering how long it would be until he made an appearance.
The real Hank Henshaw returns, and he is not happy about an alien pretending to be him all this time. While the comic book fan in me loves that he called himself Cyborg Superman, the TV viewer wants to know why he has adopted that moniker. Yes, he's obviously a cyborg but he so far hasn't worn anything that points to himself trying to lay claim to the Superman symbol. I wonder if that's the ultimate goal: have Henshaw come out as a Cadmus approved hero and appropriate the S-shield symbol as a quick way to gain public approval. Or use it to tarnish the S-shield in the eyes of the public.
I got chills when Henshaw entered the Fortress of Solitude and used Kara's blood to access information about whatever Project Medusa is. No good will come of that.
There was some nice development on the Alex/Maggie front with Alex confronting Maggie about the mixed signals she has been sending. I like that the two ended the episode on good terms and maybe headed for a romantic relationship down the road.
I have to say, this season is firing on all cylinders. Let's hope the season keeps it up.